ARTIST
"One of the premier artists of the American West, Charles M. Russell lovingly preserved the rugged splendor of the frontier."
-inscription on St. Louis Walk of Fame
When many people think of the western United States, they likely envision the scenes painted by artist Charles Russell. He grew up in St. Louis but found fame with his depictions of the "True West" in paintings, drawings, and sculptures that  still capture the imagination of people all over the world.
THE EARLY YEARS
Charles Marion Russell was born to a well-to-do family in St. Louis in 1864.  He spent his early years at the family's country estate, Oak Hill, which is near the  present-day Tower Grove Park in south St. Louis. The area was sparsely populated  in the mid-1800s, which gave him a taste of remote spaces with plenty of room to dream. Even as a child he was enamored with the Wild West. He listened intently  to the fur trappers' tall tales about the West as they made their way through  St. Louis. Russell even made clay models of the animals he heard the trappers tell  stories about though he had never actually seen the animals in person. When he turned sixteen, he decided to pursued his passion so he moved west for a life on the open range.
RISE TO FAME
Russell first moved to Montana to become a professional cowboy.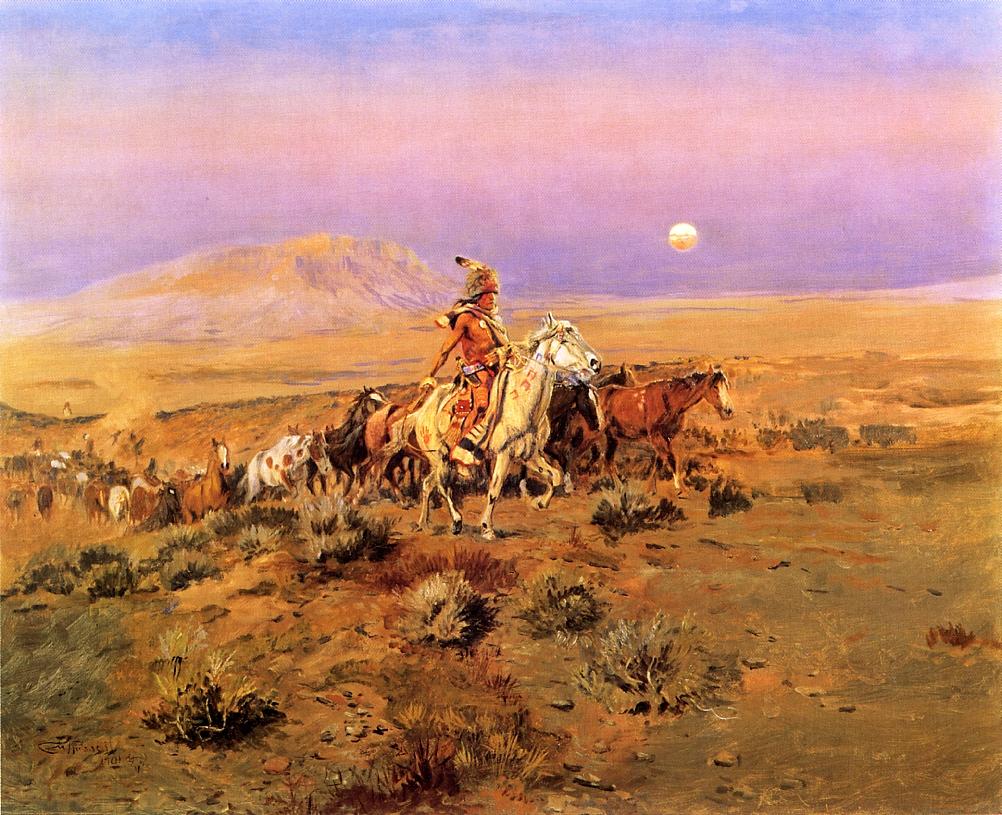 He landed a  job as a cattle wrangler in 1882 where he spent his days on the range and his evenings rolling cigarettes and drawing scenic pictures. His job consisted of riding horses and roping cattle. Fellow cattle workers said that he wasn't very good at being a cowboy, but they were impressed with his stories and drawings.
When cowboy jobs started drying up in the decade after he arrived in Montana,  he turned his attention to becoming a full-time artist. He had little success during the first three years as a professional artist, but when he married Nancy Cooper in 1896, she took the reins of the business. It was the combination of  her business savvy and his artistic ability that made him one of America's favorite artists.
SHOW ME SUCCESS
Even though the West was his inspiration for painting and sculpting, Russell found little success selling his works there. The couple moved to New York where there was more interest in fine art, and more importantly, more money to spend on art. He worked as an illustrator for several years before his first big break came  at a one-man art show in 1911.
His depiction of life on the range and the mystique that came along with it were a hit with New York art fans. His success at the New York gallery opened the door for other exhibitions in London. Now a bona fide star in art circles, he sold prints and other pieces of art at an amazing rate, and sometimes for amazing amounts of cash.
During his life, Russell produced more than three thousand pieces, including paintings, drawings, and sculptures. Throughout his works, it can be seen that Russell knew his subject intimately, and very few artists have, or will ever, be able to capture the West so perfectly. His artwork helped show easterners the West, which is fitting since he grew up in the city known as the "Gateway to the West."
EXTRA, EXTRA!
*Will Rogers called Russell the best storyteller he ever heard.
*His first job on the range was tending to sheep, which he didn't feel was fit for a cowboy.