PERFORMER, SINGER

"When You Wish Upon a Star,
makes no difference who you are."
—Lyrics of Ukulele Ike
Ukulele Ike rose to fame in the early 1900s by recording some of the most popular songs of all time. Many of these songs we know by heart, yet we don't know the name of the man who sang them. He appeared in over one hundred movies and performed on albums that have sold more than 70 million copies.    He is the voice of Jiminy Cricket and the voice of "When You Wish Upon a Star." He is credited with developing a new style of singing, but he died penniless after a series of personal misfortunes that caused most of his fame to disappear.
THE EARLY YEARS
Cliff Edwards was born on June 14, 1895, in Hannibal to a poor farming family in northeast Missouri. Little is known about his early years, but it is known that he showed an amazing amount of musical talent at an early age. During a family trip to St. Louis, he was first exposed to voice recordings on vinyl records, which was fascinating to him. Until this time, the only music he had been exposed to were religious songs in church, but hearing this new type of music stimulated a musical interest that he tried to emulate back to the farm in Hannibal. Despite being in an area with few musical influences, he never lost interest in the music that he heard on that trip. By the time he was a teenager, he was back in St. Louis performing in theaters and saloons.
RISE TO FAME
Edwards gained a relative amount of stardom as a singer in St. Louis during the early 1900s. Simultaneously, he developed the ability to play ukulele. His vocal range was an amazing three octaves, and he could do things with his voice that very few people had ever heard. He created a unique style of singing called "effin," where he mimicked the sound of a kazoo while singing.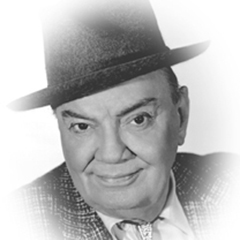 In his late teens, he traveled with carnivals to make a living. The big city was a new experience for him, so he figured he needed a better stage name to make a living. It was during this time that he picked up the name "Ukulele Ike." It was also during this time that he teamed up with a pianist named Bobby Carleton who had written a song called "Ja Da." That tune became one of the biggest selling songs of the 1920s and established Ike as a major singing sensation.
SHOW ME SUCCESS
Ukulele Ike was steadily climbing the entertainment ladder when he landed a breakout role on Broadway. He took a part on George Gershwin's production of
Lady Be Good, where he stole the show. His success on Broadway soon opened the door for movies. In 1929, at the age of thirty-four, Ike became the first performer to sing "Singin' in the Rain" in the movie The Hollywood Revue of 1929. It seemed that everything Ike recorded became a major hit, so the Hollywood studios capitalized on his famous name and bankable status as a movie star. He played in more than one hundred movies after that, which made him one of the highest paid and most successful actors of the era.
His next career move combined his on-camera experience with his amazing voice. In 1940, Walt Disney Studios picked him to be the voice of Jiminy Cricket in Pinocchio. His voice was perfect for the role and the song, "When You
Wish Upon a Star." His performance earned him an Academy Award for Best Song.  The song also came to symbolize the Disney empire from that moment on.
Despite the millions of dollars he earned as a Hollywood star, his career and life seemed to fall apart as his fame faded. He struggled with gambling and drinking addictions, he failed to pay taxes and alimony, and he soon found himself destitute. When he died, the city of Hannibal offered to pay to bury him in his hometown, but the Actor's Guild stepped in with Disney Studios to pay for his burial in California. His fame and fortune were lost, but his voice continues to entertain new generations of fans, even if they don't know his name.
EXTRA, EXTRA!
*Ike was named a Disney Legend in 2000.
*He was the voice of Jim Crow in Dumbo, famous for his performance of "When I See an Elephant Fly."
*In 2000, Ukulele Ike was inducted into the Ukulele Hall of Fame.