COMEDIAN
"Living with kids is like living with bums. They chase you around going,
'Hey, can I have a dollar, some food, I'm missing a shoe and need a ride.'"
—Kathleen Madigan
(Excerpt from Missouri Legends)
Kathleen Madigan has been recognized as one of the funniest people on the comedy circuit  today. Her unique perspective on current affairs  makes her one of the most in-demand stand-up comics and public speakers in the country.   The St. Louis woman has churned out hilarious  comedy specials, which places her on the top of the charts as one of the biggest entertainers in  Show Me State history.
THE EARLY YEARS
Kathleen Madigan was born on September 30, 1965, and grew up in a large family in the St. Louis suburb of Florissant. After graduating from McCluer North High School in 1983, she moved on to Southern Illinois University–Edwardsville,
where she studied journalism.
RISE TO FAME
Kathleen put her journalism degree to good use after graduating from SIUE, as she worked in the St. Louis area with the Suburban Journals and for the Missouri Athletic Club publications department. At the same time she was working for the MAC, she attended "open mic" nights at local comedy clubs. Her comedic stories were reflections of real-life experiences and the news of the day, and audiences instantly related to the stories she was telling. Suddenly, she was getting a fan base that drove for miles to hear her unique brand of stand-up comedy.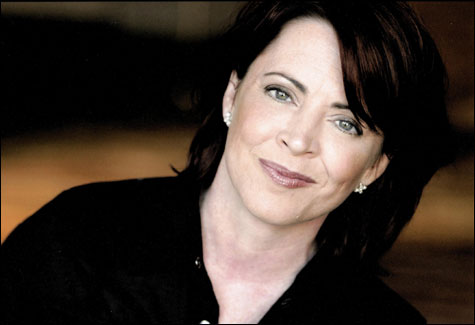 Around the same time she was becoming popular on the local comedy circuit,  Madigan was also becoming frustrated with the news business. She formulated a  plan to make a career out of "making fun" of news, instead of reporting on it. Her year and a half of experience in traditional journalism was more than enough,  so she struck out on her own to see if she could make a living doing comedy.
SHOW ME SUCCESS
Kathleen made the jump to be a full-time comedian in 1988 and instantly landed national exposure on the show Stand-Up Spotlight on VH-1. She followed that with another popular show, the 1/2 Hour Comedy Hour, where her talent was showcased in front of a national audience.
In 1996, at the age of thirty-one, Madigan won the honor of Best Female Standup Comedian at the American Comedy Awards. She also signed on to host her own comedy special on HBO called Kathleen Madigan Live. During this time she was also making the rounds by appearing on Comedy Central, The Late Show with David Letterman, The Tonight Show with Jay Leno, and on Late Night with Conan O'Brien. She was also showcased in TV shows like VH-1's Greatest Celebrity Feuds, E! Entertainment's 100 Greatest Celebrity Oops!, Last Comic Standing, and as a comedic contributor to news shows and magazines all over the country.  Despite her humble beginnings and tough times on "open-mic" nights around St. Louis, Kathleen Madigan has truly made a name for herself as one of the most popular and entertaining performers of our generation.
EXTRA, EXTRA!
*Kathleen is a regular on the TV show Hollywood Squares.
*She won the mid-Missouri Hoops Shoot Championship when she was in school.
*She was a contributing writer for the 2004 Emmy Awards.
ADDITIONAL RESOURCES:
Kathleen Madigan Official Site