AUTHOR, PLAYWRIGHT, POET
"This is the way the world ends . . . Not with a bang but a whimper."
—The Hollow Men by T.S. Eliot
T. S. Eliot is one of the greatest-known poets and playwrights in our country's history. His words have become part of the American lexicon, though many times we don't even realize we are reciting his writings. He is the only Missouri-born citizen to win a Nobel Prize, and he continues to be a major force in literature after his death.
THE EARLY YEARS
Thomas Stearns Eliot was born on September 26, 1888, in St. Louis. His grandfather, William Greenleaf Eliot, was the founder of the prestigious Washington University in St. Louis, the Smith Academy preparatory school for boys, Mary Institute prepatory school for girls, and the city's first Unitarian congregation. His aristocratic family spent summers in Massachusetts and the school year at various private learning establishments. Eliot graduated from Smith Academy before heading off to Milton Academy and ultimately Harvard University.
RISE TO FAME
Eliot quickly established a reputation as a gifted thinker and academic at Harvard. He completed his bachelor's degree in only three years but remained at the campus to work on graduate studies before heading to Europe to travel and study at Oxford. His educational pedigree and well-established family connections allowed  him to rub elbows with some of the best and brightest minds of his time. This not only expanded his thinking but also put him in contact with others who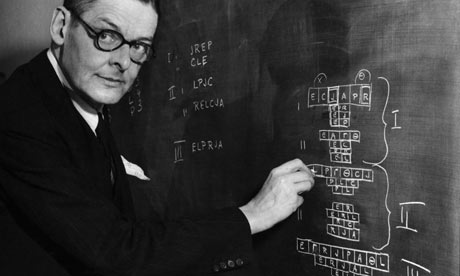 would help him on the path to literary fame.
The start of World War I ended his travels in Europe, so he settled at Merton College at Oxford. He now considered England his home, and he became a British citizen and was received into the Church of England. The fact that he did the majority of his writing in England continues to spark debates about whether he was actually an American or British author.
SHOW ME SUCCESS
Eliot was a leader of what is known as the Modernist Movement in poetry. His titles such as The Waste Land and The Four Quartets put him at the forefront of the modern literary evolution and his writings were a dominant influence on both American and English cultures for several decades. The publication of The Four Quartets even led to his recognition as the greatest living English poet. In 1948, he was awarded both the Order of Merit and the Nobel Prize for Literature for his writings. Eliot's The Waste Land is recognized as the most famous English poem of the twentieth century.
Interestingly, he also wrote a children's book that would become one of the most famous Broadway plays in history. The Old Possum's Book of Practical Cats was turned into the long-running Broadway musical known as Cats, though he didn't live to see it become a success on the stage.
His literary acclaim did not equate to personal happiness though. Eliot met Vivien Haigh-Wood only a few months before they were married, and acquaintances say that the marriage was doomed from the start. Vivien had a number of health problems, both physical and mental, that led to difficult times for the couple. The couple split in 1935, and Vivien spent the last few decades of her life in various mental institutions. Eliot married again in the 1950s to Valerie Fletcher, who was a receptionist at the firm of Faber and Faber where he worked. This marriage was also full of problems. He refused to sleep in the same bed with her, and she eventually had an affair.
Eliot spent much of his adult life in England, but a decade before he died he came back to Missouri to speak about how the Show Me State impacted his writings and his life. During a speech at Washington University, he said, "St. Louis affected me more deeply than any other environment"—quite a lofty compliment, considering the incredible life the author lived.
EXTRA, EXTRA!
*The annual meeting of the T. S. Eliot Society takes place in St. Louis on his birthday.
*The Eliot family is noted on the list of Distinguished Families of America.
*He won the Nobel Prize for Literature in 1948.
Famous People From Missouri
Famous Writers From Missouri