ENTREPRENEUR
"The key to success is to get out into the store and listen to what the associates have to say.  It's terribly important for everyone to
get involved. Our best ideas come from clerks and stockboys."
—Sam Walton
Sam Walton was a man who took a simple idea of offering customers low prices and excellent service and built one of the biggest businesses in the history of the United States. In the process, he became the wealthiest person of his time and made millionaires out of scores of other people. Some business experts say that his basic ideas have changed the way Americans shop, more so than any other person in our country's history. He started with practically nothing, except a will to succeed, yet proved that hard work and a good idea are still the keys to wealth in America.
THE EARLY YEARS
Samuel Moore Walton was born on March 29, 1918, in Oklahoma, but he spent the majority of his formative years in the Show Me State. Farming in Oklahoma wasn't paying off for the Walton clan, so when Sam was five, they packed up and moved to Missouri. The family bounced around to several small towns as Thomas Walton pursued numerous jobs in the post–World War I economy. They ultimately settled in the northeast Missouri town of Shelbina. Sam attended eighth grade in the small community where he made a name for himself as the youngest Eagle Scout in Missouri history.
The family moved again as Sam entered high school so his father could find work in mid-Missouri. Sam attended school at Hickman High School in Columbia and was active in a number of extracurricular activities, including being the starting quarterback on the state champion football team in 1935.  He also played on the basketball team and served as president of the student body his senior year.
Sam had plenty of success in high school, while developing his business abilities. The early lessons from his father about hard work and treating people fair helped kick-start a career that would eclipse levels greater than the world had ever seen.
RISE TO FAME
Sam grew up during tough economic times for most Americans. Thus, it was expected that most children would hold down jobs while attending school. Sam helped the family by tending to farm chores, delivering milk to customers, and delivering newspapers. Instead of heading off to the workforce after graduation like many people of his time, Sam worked part time so he could attend classes at the University of Missouri–Columbia.
For most people, majoring in economics at a rigorous university would keep them busy enough, but Walton was a master at multitasking. He took a full course load while delivering newspapers, working as a lifeguard, waiting tables, acting as an officer in his fraternity, working as an ROTC officer, and serving as president of his university class.  He still managed to graduate soon after his twenty-second birthday. Upon graduation, Sam entered the world of retail sales by taking a job with the J.C. Penney Company in Des Moines, which just happened to be founded by fellow Missourian James Cash Penney. His first salary as a management trainee: seventy-five dollars a month!
Walton's business career was sidetracked for a while as America entered World War II. He worked in a munitions plant in Oklahoma, where he met his soon-to-be wife, Helen Robson, in 1943 and married one year later.  One year after that, they had their first son, Samuel, followed by John in 1946, James in 1948, and Alice in 1949.
When Sam got out of the military, he decided it was time to open his own retail store. He used the five thousand dollars he saved from military service and twenty thousand dollars borrowed from his father-in-law to purchase a Ben Franklin store in Newport, Arkansas. He relocated to the growing town on Bentonville, Arkansas, a few years later.
Over the next fifteen years, Sam and his brother, James, built some of the most profitable stores in the Ben Franklin franchise. They wanted to expand their influence, so they approached the company's owners about opening a chain of retail stores in small towns. Sam figured he knew that niche of the business particularly well because of all the small towns he lived in as a child. The company rejected the idea, so the brothers decided that it was time to branch out on their own.
SHOW ME SUCCESS
The first Wal-Mart Discount City opened in Rogers, Arkansas, in 1962. It was a far cry from the stores we see today, but the concept was the same: a wide variety of household goods at discount prices. His idea of discount stores in small towns went against conventional wisdom, which said that stores had to be situated in major cities because customer traffic must remain high to be profitable.  He dotted the countryside with the blue and white Wal-Mart signs because he believed that people in rural communities needed the low-priced items. He also believed they would drive a short distance to make their purchases. He was right, and the Wal-Mart empire grew more rapidly than anyone ever imagined.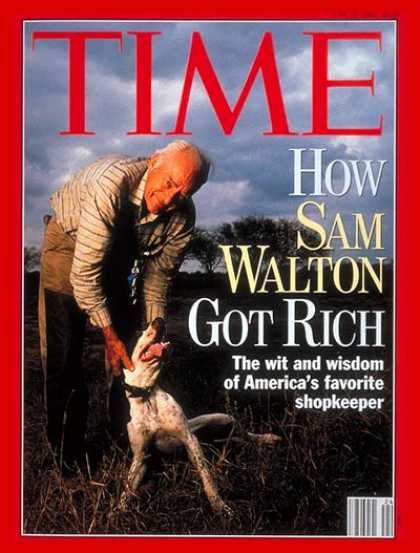 The chain experienced tremendous growth in the first fifteen years, growing from one store in northern Arkansas to 190 stores by 1977, and 800 stores by 1985. In 1972, the company was big enough to be listed on the New York Stock Exchange. The listing made instant millionaires of many of his top executives and managers who took advantage of the profit-sharing plan he set up in the early  years of the company. Walton's empire continued to branch out as he opened a warehouse outlet chain called Sam's Wholesale Club in 1983. The company expanded in 1988 to include Supercenters (which included grocery stores) and became one of the largest real estate holders in the world.
Sam died in 1992 and left a legacy as being one of the most successful business leaders in the history of our country. Forbes Magazine named Sam Walton the richest man in the world from 1985 to 1988. His fortune would still be the largest in the world today, but it has been split among his numerous family members who still have enough money to remain on the Forbes list of wealthiest Americans.
Sam Walton not only changed the way Americans shop, but he also changed the way businesses are built and managed. He came from humble beginnings, but his life and work ethic transformed the world.
EXTRA, EXTRA!
*He was voted the "Most Versatile Boy" in his graduating class.
*Walton joined the Beta Theta Pi fraternity. Upon graduation, he was voted "Permanent President" of the class.
*Walton introduced the concept of checkout counters at one location in the store. Registers throughout the store were then moved to
one location near the exits.
*It's estimated that if Sam were alive in 2005, his fortune would be twice that of Bill Gates.
*The first Wal-Mart Supercenter opened in Washington, Mo.