MILITARY LEADER
"We came American. We shall remain American and go into battle with Old Glory over our heads.
I will not parcel out American boys."
—Gen. John J. Pershing
(entry from Missouri Legends)
General John J. Pershing rose from humble beginnings to be one of the most effective leaders in U.S. military history. He attained the highest rank ever held in the military, equivalent only to the posthumous rank of George Washington: "General of the Armies." His tough decisions were the key to leading America out of World War I, which made him so popular that he almost became the first U.S. president from the Show Me State, long before Harry S Truman.
THE EARLY YEARS
John Joseph Pershing was born on September 13, 1860, and grew up in north- central Missouri near the town of  Laclede. His mother and father held numerous jobs to support nine children after they moved from Pennsylvania to Missouri, including work as farmers, store clerks, and even running a hotel.  The frontier family was relatively wealthy for the time period but lost most of their wealth when land prices collapsed.
John also worked the farm as a young man but made plans to attend college when he could save enough money. He worked as a teacher at a pair of schools, including an all-black school near his home. His teaching salary provided him
enough money to finally leave home for the Kirksville Normal School where he earned his college degree by the time he was twenty.
RISE TO FAME
Pershing's next move was to the U.S. Military Academy at West Point where he graduated in 1886 and became a military instructor at the school. He longed to see the world while also protecting his country, so he signed for duty as soon as
he had the chance.  His first tour of duty involved a battle with the Sioux and Apache. He showed a great deal of skill in battle and earned accolades from superiors during the Indian Wars, so he was shipped off to fight in the Spanish-American War in 1898.  He followed with tours as a commander during a raid on Pancho Villa during the Mexican revolution. His next appointment put him on the forefront of a war that changed the course of history: World War I.
SHOW ME SUCCESS
Pershing was appointed commander in chief of the American Expeditionary Force (AEF) where he led troops into battle during the height of World War I in Europe.  He saw death and destruction all around him during those early days of fighting, but the news from the home front may have hit him the hardest. During the fighting, he was told that his wife and three daughters died in a fire, with his son the only person to survive. Pershing only took a few days off from the war for the funeral and burial and returned to the battlefield a short time later.
Upon his return, he commanded the entire American land force in Europe, making his mark as one of the greatest military leaders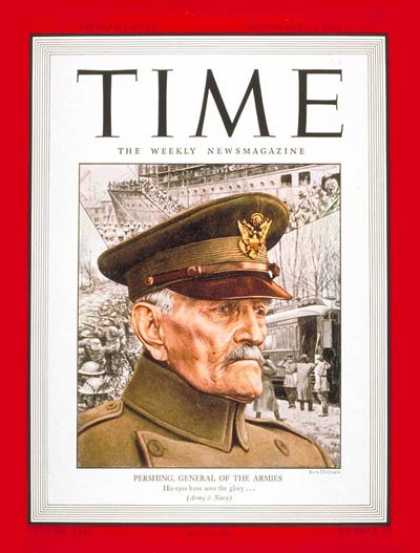 in our country's history.   One of Pershing's moves was to request more soldiers, which raised troop levels from very few to several million in a relatively short period of time. His request for more soldiers was a shock to President Woodrow Wilson, who had not planned on supplying so many soldiers that quickly. Pershing got his way and assembled one of the largest armies ever to fight the battles raging in Europe. Pershing's forces took part in the Meuse-Argonne offensive in France, destroying the German resistance and ultimately leading to the Armistice Day one month later.
Pershing returned home a hero, which led many people to urge him to run for president. He was often quoted as saying he didn't want the job, but he wouldn't decline to serve if elected. Instead, the Republican Party nomination went to
Warren G. Harding, and Pershing settled in as the chief of staff of the U.S. military.  He died on July 15, 1948, and was buried in Arlington National Cemetery near the gravesites of the soldiers he commanded in Europe.
EXTRA, EXTRA!
*His memoirs, My Experiences in the World War, were awarded the 1932 Pulitzer Prize for history.
*The Pershing Missile and Pershing Tank were named after him.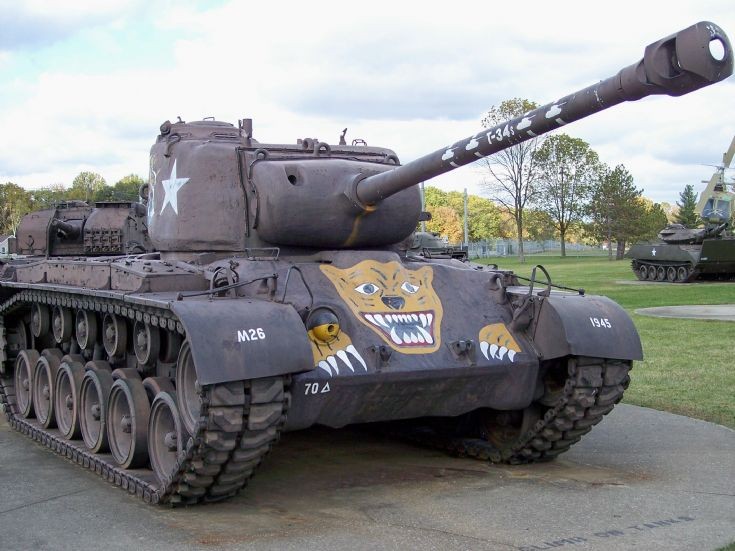 *Missouri has a state park and more than a dozen roads named in his honor.
*Pershing County, Nevada, is named in honor of Pershing.