INVENTOR, CHEMIST, AGRONOMIST
"When you do the common things in life in an uncommon way,
you will command the attention of the world."
 —George Washington Carver
(entry from Missouri Legends)
George Washington Carver was born a slave but rose to international fame as a scientist, inventor, botanist, and educator.  He revolutionized agriculture in the South by inventing agricultural techniques that are still impacting our lives today. He also developed more than three hundred byproducts from the peanut and sweet potato. Through his success, Carver also spearheaded the battle for racial equality.
THE EARLY YEARS
George Washington Carver was born around 1860 near Diamond, Missouri, to a slave woman named Mary, who was owned by Moses Carver. Much of his early life, including his date of birth and his father, is left up to speculation. Some accounts say that he was sent to Arkansas during the Civil War. Other historians claim that antislavery activists kidnapped him. And one other theory states that he was born in 1865, which if true, means that he was actually born a free man.
Another common story that is widely told is that George's father was a slave from a neighboring farm who was killed in an accident before George was born. According to the story, mother and son were abducted during the end of the Civil War and George was supposedly later found near the border of Missouri and Arkansas.
Regardless of the details of his early years, it is known that the Carver family informed George during his childhood that he was no longer a slave, yet he stayed at their home until he was nearly a teenager.
RISE TO FAME
Carver spent his early teen years moving from place to place nurturing his fascination with nature and learning everything he could about plants and animals. He took odd jobs, including work as a cook, a farmhand, a homesteader, and even a laundryman. He also read everything he could get his hands on, which likely made him one of the most highly educated young people of his time. His application was accepted at Highland College in Highland, Kansas, but when he arrived for the first day of classes, he was rejected because he was black.
His nomadic travels continued until he landed in Winterset, Iowa, where a prominent family became impressed with his artistic skills and encouraged Carver to apply to Simpson College. Carver studied at Simpson for about one year, then transferred to Iowa State College of Agricultural and Mechanic Arts, which today is known as Iowa State University. He earned his bachelor's degree in 1894 and a master's degree in agriculture two years later, becoming the first African American to receive both degrees.
His next stop was a job as the head of a newly formed department of agriculture at Tuskegee Normal and Industrial Institute, which was run by none other than Booker T. Washington.
SHOW ME SUCCESS
Carver became the director of agricultural research soon after his arrival at Tuskegee, where he worked on research projects aimed at improving southern agriculture. He knew that many farmers in the South were facing hard times because cotton crops had overwhelmed and devastated the fields. His solution: Plant soybeans and peanuts on the land.   This technique replenished the soil while also providing a source of protein for the residents of the South.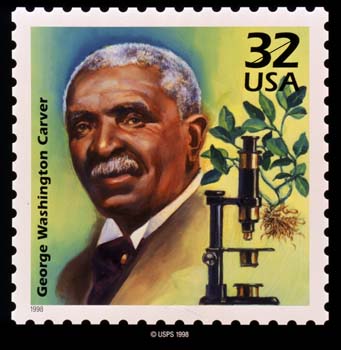 Despite all of the varied success he achieved during the course of his lifetime, his push to develop new ways to use the peanut remains the hallmark of his success. He ultimately developed three hundred byproducts from peanuts—including cheese, milk, coffee, flour, ink, dyes, plastics, wood stains, soap, linoleum, medicinal oils, and cosmetics, plus another 118 derivatives from sweet potatoes including flour, vinegar, molasses, rubber, ink, a synthetic rubber, and postage stamp glue.
Through his innovative research, he changed the economy of the South and helped spawn entire new industries all over the world. His fame spread through out the world, even enticing the former Soviet Union to request his expertise. In 1940, Carver donated his life savings to the establishment of the Carver Research Foundation at Tuskegee for continuing research in agriculture. He died in 1943 and is buried on the Tuskegee Institute campus near Booker T. Washington.
EXTRA, EXTRA!
*Despite common misconceptions, peanut butter was not one of his contributions to American society.
*Carver was the first African American appointed to the faculty at Iowa State.
*He was elected to Britain's Society for the Encouragement of Arts, Manufactures, and Commerce (London) in 1916.
*His friends included Henry Ford and Mahatma Gandhi.