FRONTIERSWOMAN
"…she soon gained a local reputation for daring horsemanship and skill as a rifle shot."
—Buffalo Bill
Calamity Jane is a household name across the country, although few people know much about the person they are referencing. Martha Jane Cannary was a hard-drinking, hard-living, vulgar, gun-toting frontierswoman who could dig up trouble with the dirtiest of all the men. The stories of her escapades in the Wild West are probably wildly exaggerated, but her connection to Wild Bill Hickok is well established. Her rugged life is the thing of which legends are made, and the legends only grew taller with a TV show called Deadwood.
THE EARLY YEARS
Martha Jane Cannary was born sometime around 1850 in far north-central Missouri near Princeton. The young woman earned quite a reputation for wearing men's clothing, chewing tobacco, being a sharp shooter, and cursing. Legend has it that her family took off by wagon train to head west when she was in her early teens. Her mother died on the trail and her father passed away a short time later. She was left to fend for herself in the Wild West, and that's when the legend took on a life of its own.
RISE TO FAME
Jane spent the next few years wandering around the West, picking up odd jobs to put food on the table. She worked as a cook, a dance hall girl, and a prospector. She landed in a town in South Dakota called Deadwood, which was a rough and tumble town that was a pe
rfect match for her personality. She met a man in town who went by the name of Wild Bill Hickok, and they had some degree of a relationship. The two are linked forever in history, but they actually knew each other only a brief time because he was shot dead shortly after they met. Despite the short acquaintance, some historians contend that they were married and even had a child. She later married Clinton Burke after living with him for about six years, which of course was a big scandal at the time.
Calamity Jane got her nickname from the threats she would make to men who bothered he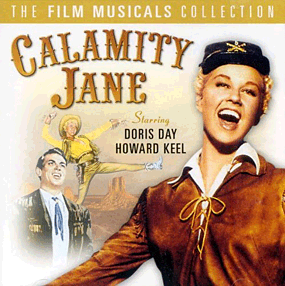 r. She always assured them that a calamity would come their way. Her wild-living, unique personality and interesting stories captured the attention of Americans in other parts of the country. That's when she joined up with the Buffalo Bill Wild West Show where she showcased her abilities in horseback riding and shooting. Ironically, the reasons they signed her to do the show (crazy antics, fighting, and the ability to drink copious amount of liquor) were the same reasons they eventually had to fire her. She left the show and returned to Deadwood where she died from pneumonia in August of 1903. She was buried on a hill overlooking the city right next to Wild Bill Hickok.
EXTRA, EXTRA!

*Some historians say the TV series Deadwood was an accurate representation of her life.
*A musical called Calamity Jane, starring Doris Day, is the most famous interpretation of her life.