FIRST FEMALE GOVERNOR
"The Governor Lady."
—Good Housekeeping Magazine
Nellie Tayloe Ross was born in Missouri and rose to become the first female governor in our nation's history. Ross's rise to fame was truly amazing because of the time period in which it happened, and also because she never formally agreed to run for the office. Her time as first woman governor was followed by another prestigious honor, the first woman leader of the U.S. Mint.
THE EARLY YEARS
Nellie Davis Tayloe was born in St. Joseph on November 29, 1876. Her family lived in the northwestern part of the state until she was about to enter school, when they moved to Omaha, Nebraska. Her family put a strong value on education, allowing Nellie to be educated at both public and private schools. Her original intent was to teach kindergarten in Nebraska, so she attended a two-year teaching program to pursue her original goal.
RISE TO FAME
Nellie moved to Wyoming not long after she met William Bradford Ross during a visit to see her relatives. He was an attorney and aspiring politician, while she was content to play the role of mother and supporter of her husband's ambition. William was elected as the governor of Wyoming, but his time on the job was short- lived. One year after taking office, he died after an appendectomy operation.
The state had no lieutenant governor to take his s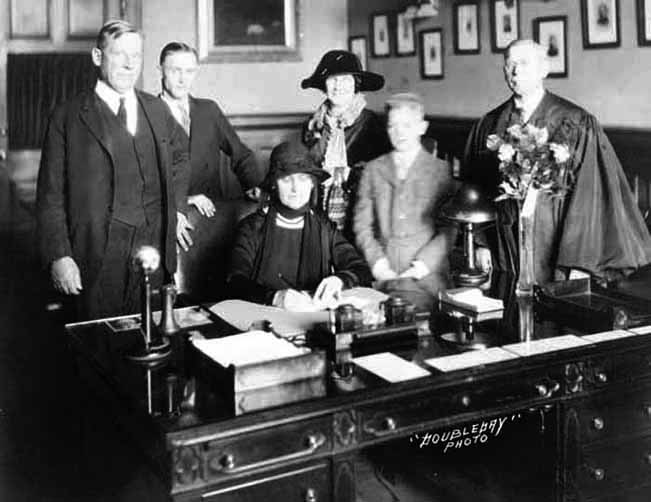 pot, so the secretary of state filled the position until a special election could be held to elect his successor. Nellie was gaining support from many Democratic leaders, but she never officially
claimed the nomination. She hinted that if she were elected, she would fulfill her husband's goals that he set forth during his short time in office. Wyoming voters also rallied around the fact that they were the first state to allow women to vote, so they too should have the first woman governor. Only one month after her husband passed away, Nellie won the 1924 election by only eight thousand votes, which made her the first woman governor in the history of the United States.
SHOW ME SUCCESS
Nellie was inaugurated as Wyoming's thirteenth governor on January 5, 1925,  exactly fifteen days before the first woman governor of Texas was sworn into office. Historians agree that she did a capable job as the chief executive of the state, although few of her initiatives made it past the Republican-controlled legislature. She focused on core Democratic principles during her tenure, including tax relief for poor families and women's rights. Her time in office was also short, as Ross was defeated two years later by an opponent who received barely one-thousand more votes than her.
The name recognition that came along with being the first w
oman in office brought some benefits. President Franklin D. Roosevelt made history once again for Ross, as he named her the first female director of the U.S. Mint. She held the post for twenty years, including the turbulent time during World War II where the amounts of copper, zinc, and nickel were reduced because of war rationing. Her job also allowed her to be the first woman to have her likeness stamped on a mint medal, and her name is engraved on the silver depository at West Point. Her long and historical life ended in 1977 at the age of 101.
EXTRA, EXTRA!
*Miriam Ferguson won the governorship of Texas on the same day as Ross but was inaugurated fifteen days after her.
*Ross believed that a woman's primary source of happiness should be inside the home with her children.
*She was appointed vice chairman of the Democratic National Committee in 1928 and directed the party's women's division.