MILITARY GENERAL
"Bravery is the capacity to perform properly even when scared half to death."
—General Omar Bradley
General Omar Nelson Bradley rose from humble beginnings to become one of the most successful military leaders of all time. He graduated from a star-studded class at West Point, which included Dwight D. Eisenhower. Bradley rose through the ranks to become a five-star general, where he bravely led soldiers into battle during World War II. He was also one of President Harry Truman's confidants during the Korean War and one of the most decorated soldiers in America's history.
THE EARLY YEARS
Omar Nelson Bradley was born in a log cabin near the small town of Clark on February 12, 1893. His parents lived a hard life on the frontier, and Omar was their only child to survive childhood. His father passed away when Omar was only thirteen, but he instilled lessons about integrity and moral character that stuck with the youngster for life. Omar and his mother later moved to Moberly where he became a star athlete and scholar and was accepted into the West Point Military Academy.
RISE TO FAME
Bradley's time at West Point was spent more on the baseball field than in the  classroom. He was a star player for the academy and also one of the most popular young men on campus. The relationships he developed in college turned out to be a great asset during his army career. He finished 44th in his class of 164, while  picking up the values of
discipline and teamwork that set him apart from mant of the other students. In fact, his 1915 graduating class was called "the class that the stars fell on" because of the high caliber of students. More than thirty generals emerged from the class, including President Eisenhower.
His early military career was less than stellar as he saw very little action and was actually relegated to duty in Montana during much of World War I. After the war, he continued his studies in military disciplines and taught mathematics at West Point. Little did he know, another major conflict—World War II—was brewing, which would change the face of the world forever.
SHOW ME SUCCESS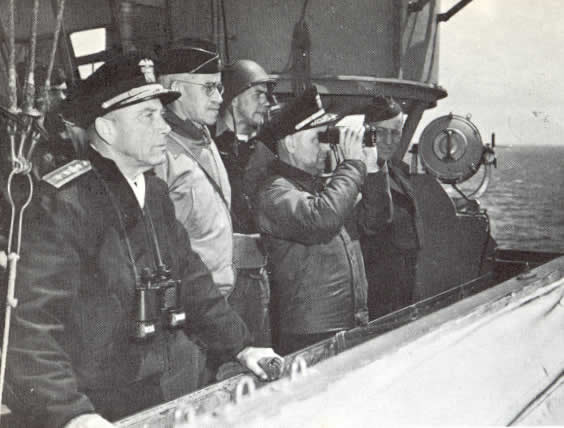 When World War II broke out, Bradley was acting as commandant of the U.S. Army Infantry School at Fort Benning, Georgia. He continued to move up the military ladder when General George S. Patton put him in charge of the II Corps. Bradley led his troops to victory in Tunisia in 1943, including the surrender of 250,000 Axis troops. The next year, he was given command of the U.S. First Army, where he took part in the invasion of France, including the assault on the beaches of Normandy. He later took leadership of the largest force ever placed under an American group commander throughout the end of World War II.
After the war, General Bradley served his country as administrator of Veterans Affairs and then chief of staff of the Army. He was chosen in 1949 to be the first chairman of the joint chiefs of staff and was ultimately promoted to general of the army, making him the fifth and last person to hold that post in the twentieth century. He retired a few years later to private industry where he took time to write his memoirs of the war, titled A Soldier's Story. He spent his final few years at a military medical center where he passed away in 1981 as one of the most decorated generals in the history of our country.
EXTRA, EXTRA!
*The U.S. Army's M2 Bradley infantry fighting vehicle and M3 Bradley cavalry fighting vehicle were named after General Bradley.
*Bradley was supposed to leave for Europe early in his career, but the influenza pandemic and the armistice prevented him from
leaving the United States.
*Bradley lettered both in football and baseball at West Point.