SYNDICATED RADIO HOST
"One of the 100 Most Important Radio Talk Show Hosts in America."
—Talkers Magazine
Named one of the most influential talk radio hosts in the country for several years straight, Jim Bohannon has made a significant impact on radio and is often referred to as the man who succeeded Larry King. His larger-than-life persona started in a much more humble manner, growing up as just a regular kid in the Missouri Ozarks.
THE EARLY YEARS
Jim Bohannon was born on January 7, 1944, in Corvallis, Oregon. Jim was just a few months old when his family moved to Lebanon, Missouri, which is where he spent the rest of his childhood. He graduated from Lebanon High School in 1962 and then moved forty-five minutes away to attend college at Southwest Missouri State University in Springfield.
Bohannon took an early interest in broadcasting. He picked up his first on-air job in 1960 at the age of sixteen at his hometown radio station
KLWT-AM.  During his college years at SMSU, he honed his skills as a disc jockey at KICK radio and as a news reporter at KWTO-AM.  After he finished college, he shipped off to Vietnam where he spent one year with the 199th Light Infantry Brigade. Upon completion of his duties, the U.S. Army sent him back to Washington, D.C., where he launched a career asking questions of the rich and powerful in our nation's capital.
RISE TO FAME
Soon after Bohannon returned to the United States, he took a position at WGAY radio station. It was an odd fit for him because the station played easy listening music. His news interests eventually pulled him away from the music format and back into talk radio when he landed reporting jobs at news radio stations WTOP and WRC.
In 1980, he packed his bags and headed to Chicago for a morning show at WCFL. The high-profile job expanded his expertise and exposure, but it wasn't enough to keep him content. He picked up a side job in the afternoons at CNN's
Chicago bureau, filing stories to be seen around the country. The exposure he received from those two positions in the third-largest media market in the country set the stage for his next big move.
Three years after he moved to Chicago, he took a job as a reporter with the Mutual Broadcasting Network. That network just happened to carry the world-famous Larry King Radio Show. Bohannon made such a positive impact on the listeners that he was soon the primary fill-in host when King was gone. It was incredible exposure, and now people around the country were beginning to know the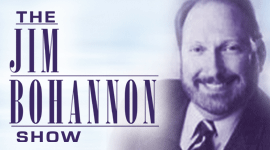 name Jim Bohannon. He was offered his own syndicated show in 1993 when Westwood One bought out Mutual and moved Larry King to a daytime position, leaving the evening position open for the Jim Bohannon Show.
SHOW ME SUCCESS
The Jim Bohannon Show was an immediate success. Millions of listeners related to his easygoing manner and intelligent political discussions. Never one to rest on his success, he picked up additional hosting duties for a daily news magazine at Westwood One and a weekly feature radio show as well.
In addition to his legions of listeners and fans, the awards and honors were starting to rack up. He was inducted into the Radio Hall of Fame in Chicago and put on the Wall of Honor in his hometown of Lebanon. Topping things off, Bohannon was inducted into the national Radio Hall of Fame in 2003.
Despite his worldwide success, Bohannon continues to make southwest Missouri a part of his life. He took the unprecedented step of broadcasting his syndicated show from the Ozark Empire Fairgrounds in Springfield, giving the area additional national exposure. In fact, this small-town Missouri boy saw such exponential growth of his program that the Jim Bohannon Show ranked as the fifth most listened-to talk program in the country!
EXTRA, EXTRA!
*Jim is one of the specialty voice announcers that can be heard on CBS's Face the Nation.
*Bohannon was nominated for the National Association of Broadcasters Marconi Radio Award for the Network Syndicated Personality of the Year.
*Bohannon and his wife, Annabelle, went to high school together but didn't see each other again for 33 years. They "re- met" at a book signing in Columbia, Missouri, and were married a few years later.