RADIO PERSONALITY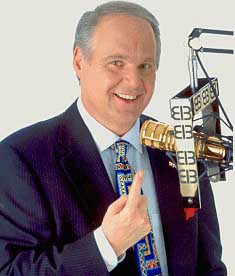 "Broadcasting with talent on loan from God."
—Rush Limbaugh
Rush Limbaugh is heard by millions of people throughout the world on a daily basis. In fact, many radio historians credit him with being the most popular radio personality in history. Missouri is known for producing famous broadcasters, but Limbaugh took it to a whole new level. He not only changed the course of radio history, but he also changed the course of elections with the power of the spoken word and a Golden Microphone.
THE EARLY YEARS
Rush Hudson Limbaugh, III, was born in Cape Girardeau on January 12, 1951.  He was the eldest of two sons born to Mildred and Rush Limbaugh, Jr. His father was a successful attorney in the bootheel, imbuing a conservative ideology into his kids from an early age.
Rush's love for radio began when he took his first job in broadcasting at a Top 40 radio station when he was just a teenager. He graduated from Central High School in Cape Girardeau and then headed off for Southeast Missouri State at the urging of his father. Rush was a voracious reader and a highly intelligent student, but college wasn't in the cards for him as he stayed at the university only a year and a half.   His passion simply didn't include sitting in classrooms and taking tests, but rather working his way to the top as a radio personality.
RISE TO FAME
Limbaugh left the bootheel in 1971 to pursue a radio career in bigger cities, including Pittsburgh and Kansas City. His outspokenness while reading the news cut short his early career because he was fired in both cities. He was now  frustrated and looking for something a little more stable, so he took a job with the Kansas City Royals in 1978 as an account executive selling ticket packages for the games. The job lasted five years, but his love for radio and conservative politics led him back to the microphone as a news commentator.
At the age of thirty-three, he took a job in Sacramento where the radio station KFBK was looking for someone to replace controversial talk show host Morton Downey, Jr. His style was exactly what they were looking for: wild, opinionated,
offensive, and most importantly, charismatic. Within a year, Limbaugh had the top-rated radio show in one of the biggest cities in the nation. It was just a matter of time before people across the country would come to love, or loathe, the name of Rush Limbaugh.
SHOW ME SUCCESS
In 1988, he took his show to a national audience. Limbaugh was signed to a two-year contract at WABC in New York City, where he debuted his nationwide program. Rush's show became an instant success as stations across the country began signing up for rights to broadcast his show. A mere five years later, his syndicated program, "The Rush Limbaugh Show," was the most popular radio talk show in the country, reaching an estimated 20 million listeners a day. Some restaurants even opened what they called "Rush Rooms," where people would gather over lunch and listen to his program.
He was truly a media powerhouse, which led to book deals, a television show, and even changing the course of elections across the United States. The Rush Limbaugh television show debuted in 1992 and quickly climbed the ratings, but it faded away a few years later as Limbaugh complained that it was airing too late at night in many cities. He also dominated book sales during that time, with The Way Things Ought to Be spending over a year on the bestseller list. His next book, See, I Told You So received the largest ever first printing of any book in U.S. history. Limbaugh's impact is also credited with Republicans winning numerous elections in the 1990s and the shift in power in the House, Senate, and even the White House.
Rush Limbaugh still dominates the airwaves nearly twenty years after the nationwide syndication of his talk show. He has been called to greatest broadcaster in history, the most controversial person on the airwaves, and one of the most famous Missourians of all time. His lasting impact on the radio industry was set in stone when he was inducted into the Radio Hall of Fame in 1993.
EXTRA, EXTRA!
*Limbaugh underwent cochlear implant surgery, which restored a measure of hearing in one ear.
*Limbaugh has won the Marconi Radio Award for Syndicated Radio Personality of the Year numerous times.
*His first radio name in Pittsburgh was Jeff Christie.
*Limbaugh's first television exposure came with a 1990 guest host stint on Pat Sajak's late-night program on CBS.