P
RO
B
ASEBALL
P
LAYER AND
B
ROADCASTER
"Baseball and radio belong together. It's like they were made for each other."
—Mike Shannon
Mike Shannon has been a fixture for the St. Louis Cardinals for nearly half a century, both on the field and in the press box. He first made a name for himself as the right fielder and third baseman for the highly successful Cardinals teams of the 1960s. His second career has seen him behind the microphone for nearly four decades, making him one of the most beloved hometown baseball personalities in Missouri history.T
THE E
ARLY Y
EARS
Thomas Michael Shannon was born on July 15, 1939, in St. Louis. He was an amazing high school athlete at Christian Brothers College High School where he earned All-State honors in baseball, basketball, and football. He was such an outstanding football player that the high school All-American player accepted a scholarship to play at the University of Missouri–Columbia. His time at Ol' Mizzou was short, as he was soon on his way to the St. Louis Cardinals organization.
R
ISE TO F
AME
Shannon joined the Cardinals in 1958, but he didn't automatically start playing with the big league team. As with most young players, he first had to pay his dues on the road by playing with the minor league teams. He made a few appearances at Sportsman's Park in 1962 and 1963, but most of these years were spent with the farm club.
S
HOW M
E S
UCCESS
Mike finally broke into the everyday roster midway through the season in 1964 as an outfielder for St. Louis. It was perfect timing from a career standpoint. The Cardinals had compiled an impressive array of players that year, who led them to the World Series against the Yankees. Shannon impressed everyone during the series by hitting a two-run home run in Game 1 as the Cards went on to win the series in seven games.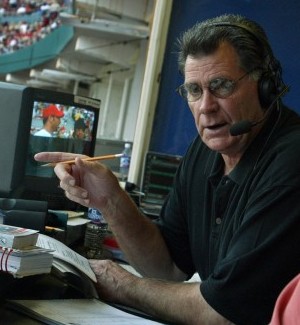 He transitioned into playing third base a few years later, where he remained for the rest of his playing days. He again helped lead the Cardinals win the pennant in back-to-back years in 1967–68, and onto the World Series Championship in 1967. He again had a dramatic home run in the 1967 series that catapulted St. Louis over the Detroit Tigers.
In 1970, Mike's playing career was cut short after a doctor diagnosed him with a kidney disease. He stayed with the Cardinals by moving to a job in sales and promotion, then to the broadcast booth in 1972. The rookie color commentator was paired up with broadcasting legend Jack Buck. The two shared the broadcast booth for several decades, acting as the eyes and ears for millions of fans of the St. Louis Cardinals throughout the Midwest. Shannon continues his duties behind the microphone for the Cardinals to this day, more than thirty years after he started. For an entire generation of fans, his voice has been a stable force in these days of transitional players and changing radio stations.
E
XTRA
,
EXTRA!
*Shannon is the only athlete to be named Missouri Prep Player of the Year in basketball and football in the same year.
*In 1999, Shannon was inducted into the Missouri Sports Hall of Fame in recognition of his popularity and performance on the air and, as a player, on the field.
*He won the 1985 Emmy Award in the Midwest for Sports Broadcasting.